Bring your message to where the people are -- the beach!
Beach Billboards are messages, names or logos carved in sand. They pop up on heavily-trafficked beaches - in the thick of South Padre Island Spring Break, for example - where they can be admired and photographed by everyone who walks by--
Until they crumble back into a pile of sand. This is practically the definition of "sustainable, green marketing"!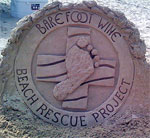 Get your brand name out there
We live on the beach* and we have 20 years experience carving names, messages and logos in the sand. We specialize in awe-inspiring castles but can replicate just about anything in sand, using your artwork. And we make your Beach Billboardlook so cool that your message will immediately start showing up on cellphone cameras, blogs, tweets and youtube -- the photos and videos will literally spread themselves around with no further effort on your part.
* "Home Beach" is beautiful South Padre Island, TX - we get great weather all year round and big crowds during spring break and throughout the summer. If you are interested in a different beach demographic, we can probably hook you up with a qualified sand sculptor in a different location -- just ask!